My birthday is coming up and I always celebrate with my favourite dessert - tiramisu!
Having started a wheat-free diet, I could not use the savoiardi sponge fingers that you can buy in a packet. Boo...
But that gave me the motivation to make my own!
I used the recipe used by The Daring Kitchen for its February 2010 Tiramisu challenge, which was based on one from Le Cordon Bleu at Home, substituting gluten free flour for cake flour. The method is very similar to making the lemon delicious pudding as it relies on whipped egg whites for much of its puffiness and structure.
Savoiardi sponge fingers (aka. Ladyfingers)
Recipe from Le Cordon Bleu at Home, via The Daring Kitchen.
Makes around 35 2cm x 8cm fingers
3 eggs, separated
75g sugar
95g gluten-free plain flour (I use White Wings brand)
50g icing sugar
Preheat oven to 175C. Line 2 baking trays with paper.
In a clean, grease-free bowl, whip the egg whites until stiff peaks form. Gradually add the sugar and keep beating until the egg whites become stiff, glossy and smooth.
In a small bowl, lightly whisk the egg yolks with a fork. Fold the egg yolks into the egg white.
Sift over the flour and fold in gently until just combined.
Fill a piping bag/ziploc bag with the batter and snip off the end to create a 2cm wide nozzle. Pipe 8-10cm strips, leaving about 2cm of space in between each strip to allow for the fingers to expand.
Dust half of the icing sugar over the strips, wait for 5 minutes (the sugar will become moist and glisten) then dust with the remaining sugar.
Bake the biscuits for 10 minutes, rotate the trays, then bake for another 5 minutes or until the fingers have puffed up and become light brown.
Take the fingers out of the oven and cool on tray for 5 minutes before transferring to a rack. The cooled biscuits can keep in an airtight container for 2-3 weeks.
(Note: This makes soft biscuits. If you want the crispier sort, turn the oven down to 120C after the 15 minutes and bake for a further10-20 minutes until hard and crispy.)
Made two batches - one with icing sugar on top, and one without (I forgot!)
I will post the recipe for tiramisu later.
--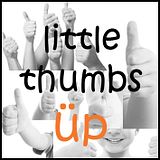 I am submitting this (again!) to Little Thumbs Up for the Egg-themed month of August! Just a coincidence that I have been making egg-based bakes.
Little Thumbs Up has been organised by
Zoe
of
Bake for Happy Kids
and
Doreen
of
My Little Favourite DIY,
and is hosted this month by
Baby Sumo
of
Eat Your Heart Out.